Win a Waitrose 'Wonder of Christmas' Christmas Hamper (Worth £100) .
Congratulations to Helen Haugh……WINNER of the Christmas hamper!!!! 🙂 xx
Every month we run a month long 'in salon' 'Prize Draw', with the winner drawn towards the end of each month.
Each visit to the salon during the month will entitle you to 1 free entry into the prize draw for that month (multiple visits will gain multiple entries).
With Christmas fast approaching we decided to make this months prize suitably festive, we hope you like it!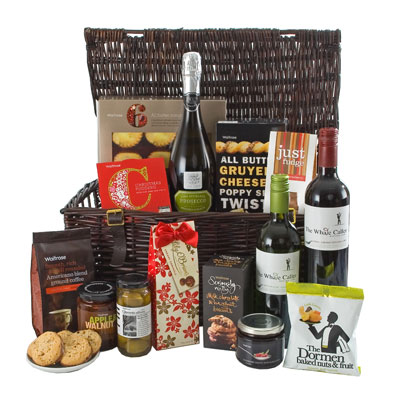 Presented in a 19″" Lidded Basket (dimensions: 480 x 330 x 230mm) containing:
Just Fudge Cranberry Fudge, 125g
Lily O'Briens Creamy Caramels, 110g
The Dormen Baked Nuts & Fruit, 100g
Waitrose All Butter Gruyere Cheese & Poppy Seed Twists, 125g
Waitrose All Butter Mince Pies x 6
Waitrose Americano Blend Ground Coffee, 227g
Waitrose Apple & Walnut Chutney, 350g
Waitrose Christmas Pudding with Cider and Sherry, 454g
Waitrose Cranberry Sauce with Burgundy, 220g
Waitrose Queen Whole Pitted Spanish Olives in Brine, 225g
Waitrose Seriously Nutty Milk Chocolate & Hazelnut Biscuits, 125g
SanLeo Prosecco Brut NV Italy, Sparkling Wine, 75cl
The Whale Caller Sauvignon Blanc, Colombard 2011 Western Cape, South Africa, 0.75l
The Whale Caller Shiraz, Cabernet Sauvignon 2011 Western Cape, South Africa, 0.75l